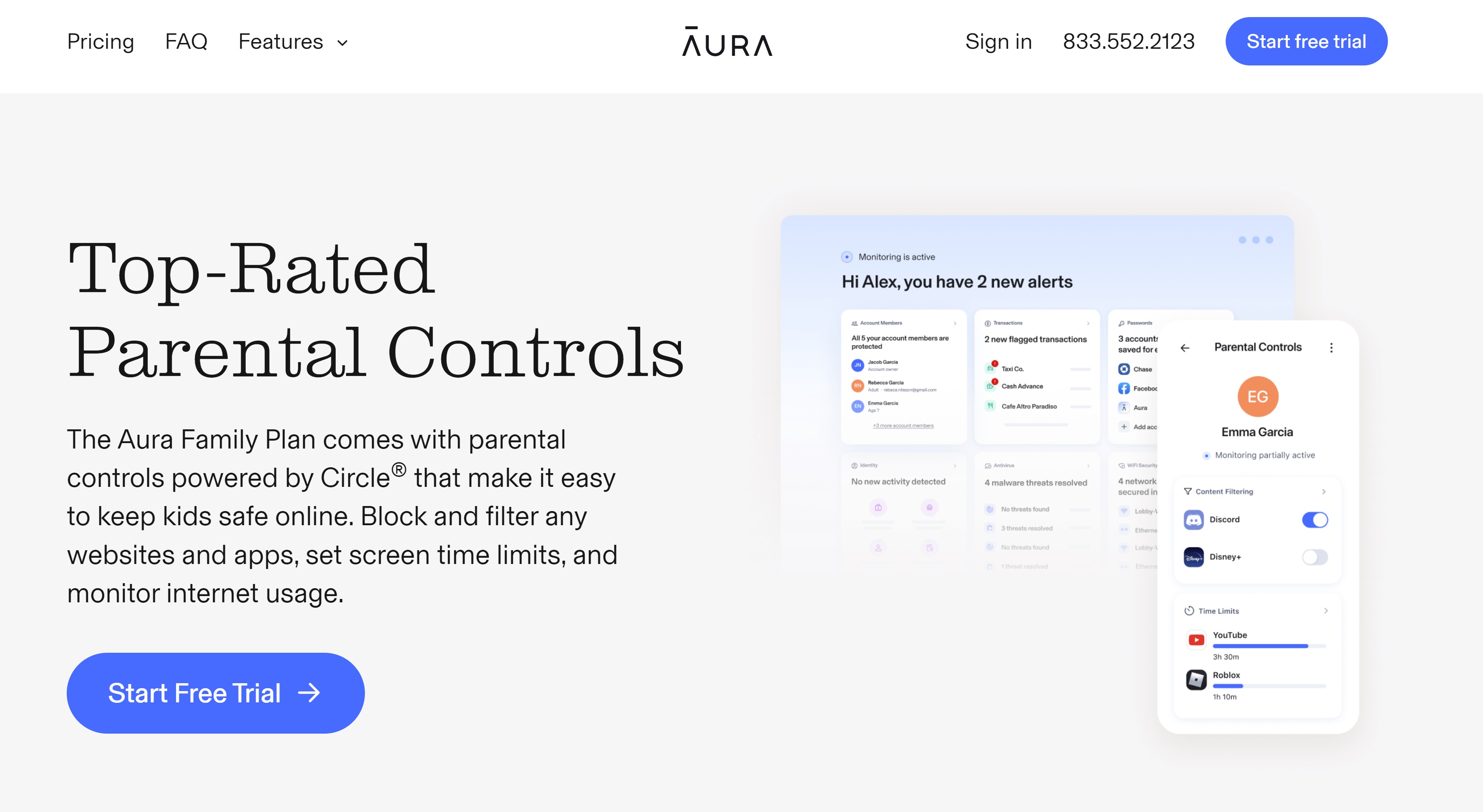 Services And Features
Aura's family protection plans feature extensive coverage for comprehensive online safety. Now, the Aura Family Plan includes Parental Controls making it easy to filter and block inappropriate and mature content, set screen time limits, and track internet usage.
Parental Controls
Filter content and block inappropriate sites
Screen time limits
Internet usage tracking
Customize settings for every family member
Mobile device management (iOS and Android devices)
Unlimited family profiles and device monitoring
Monthly Vantage credit score¹
3-Bureau credit reports
3-Bureau credit monitoring and alerts
Bank, investment, and retirement account monitoring
Financial transaction monitoring
Identity Theft Protection
$1M identity theft insurance coverage*
Personal information, ID verification and SSN monitoring
Online account monitoring and data breach alerts
Spam call and junk mail removal
Home title and address monitoring
Criminal and court records monitoring
Lost wallet remediation
Child SSN monitoring (family plans only)
Online and Device Security
Antivirus software
VPN with Safe Browsing
Password Manager
Customer Support
White glove fraud resolution with dedicated case managers
24/7 customer support
We think it's worth highlighting that Aura takes a comprehensive approach to personal digital security. Aura's features are designed to protect your finances, identity, devices, and privacy for the entire family. When it comes to identity theft, it's not just a risk for adults. Identity thieves target clean credit profiles making kids targets for identity theft, too. Aura's Family Plan protects kids (as well as adults) from identity theft by alerting parents to any use of their kid's social security number.
Now with Aura's new parental controls features parents can expect even more protection for kids in their everyday activities online. Parents can use Aura Parental Controls to block and filter apps and websites and set screen time limits. What impresses us most Aura Parental Controls is just how easy they are to use. Once a parent links their child's device with a QR code, they can activate Content Filters. Parents can use the default "Child" or "Teen" settings or they can customize the filters by toggling on a filter for apps like Discord, Roblox, Instagram, TikTok, SnapChat, Netflix, and many others.
Another important tool for parents that comes with Aura Parental Controls is Screen Time Limits. Like with content filters, the screen time limits are incredibly simple to set up and customize. For each child, parents can choose to limit the total amount of time their kids spend online each day, as well as choosing a time limit for particular apps.
In addition to the robust suite of parental controls tools, Aura offers protection for finances and devices. Aura provides near real-time alerts to existing threats while also continuously searching for new threats. In a threat landscape that's always evolving, we view Aura's adaptive technology as setting it apart from other digital security solutions. Two of Aura's features are home title monitoring and financial transaction monitoring. Home title theft is a growing concern and Aura will alert you to detected activity related to your property. The financial transaction monitoring features are fully customizable so that you can be alerted to transactions at any threshold for any financial account.
Finally, to round out the package of protection, Aura offers antivirus protection, Safe Browsing, and VPN (Virtual Private Network). The antivirus software protects devices from infection from all types of malware, as well as from spyware that can gather financial information. Similarly, Aura's Safe Browsing feature stops you from entering dangerous websites (malware, phishing sites) that may steal your personal info. Aura's VPN helps support private and secure browsing by encrypting your internet connection, shielding your data from hackers or cyber predators.
Pricing
Aura offers digital safety plans based on the number of members you would like to protect. The Individual plan is just $9 per month, the Couple plan is $17 per month, and the Family plan is $25 per month.
Customer Support
Aura offers 24/7/365 customer care through phone and email. With every plan you get White Glove Resolution Services, which includes experienced case managers who will work with you 1-on-1 to come up with a mitigation and remediation plan to resolve your identity theft or fraud incident. Aura says that its experts will be by your side to take the stress and confusion away from resolving fraud incidents on your own.
Conclusion
If you value extensive and intelligent protection for your entire family, and easy-to-reach, experienced customer support, check out Aura. We found their online dashboard and mobile app to be clean, engaging, and intuitive to use. Interacting with these features gives you a sense of confidence when it comes to your identity protection and parental controls. Aura makes it simple to understand how to better protect yourself.