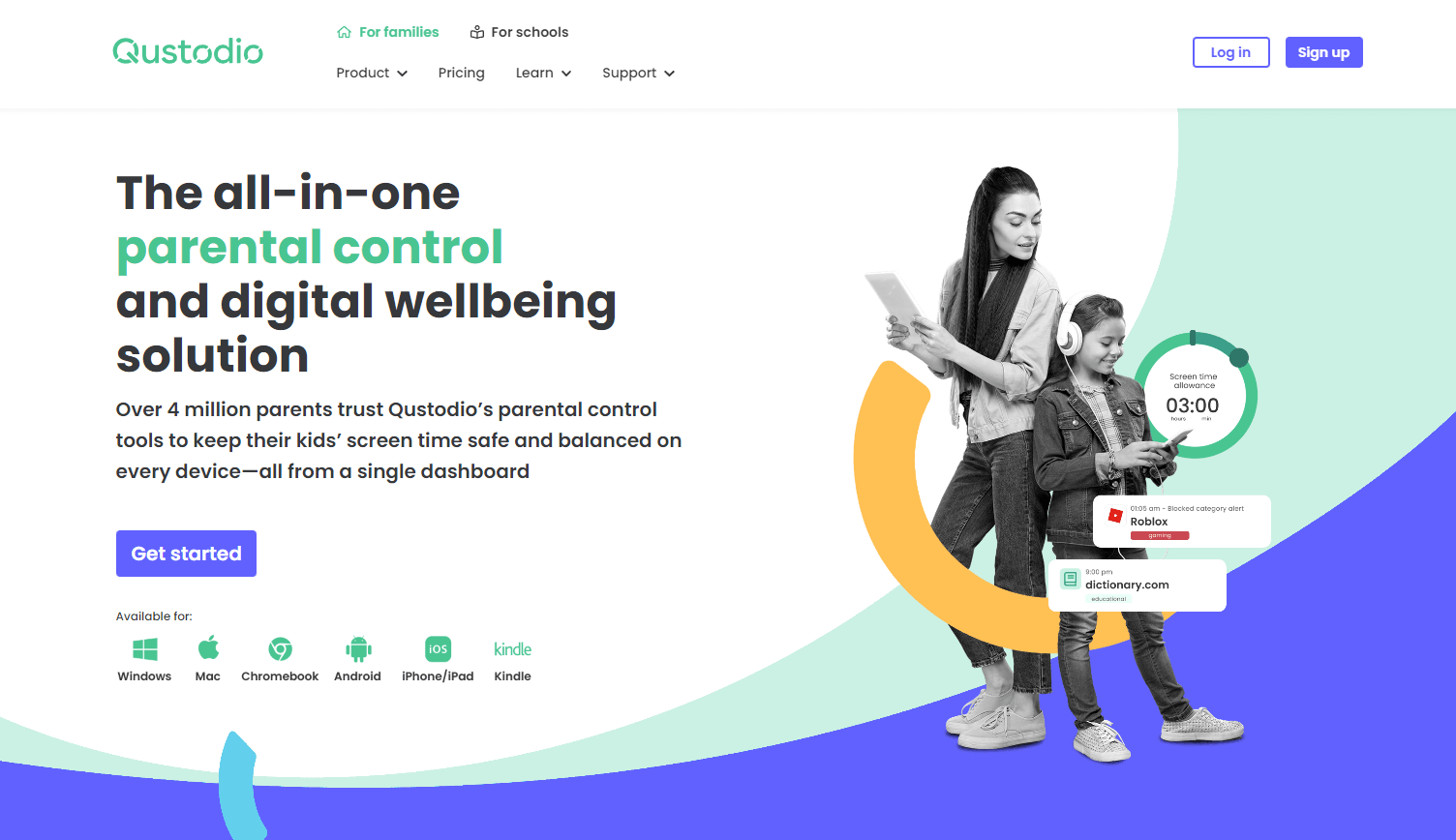 Services And Features
Filter content and apps
Block apps, games, and websites

Receive alerts when child try to access blocked content

View child's browsing history
Location monitoring
View child's current location and log of past locations

Receive alerts when they arrive and leave 'saved' locations
Screen Time Limits
Set screen daily screen time limits and app-specific time limits

Create screen-free periods
SMS Text Message Monitoring
View child's text messages

Block calls from specific contacts
Alerts
Receive daily, weekly and monthly Reports via email

Alerts for certain activities

SOS alerts from child to parent
Recently, Qustodio added a text message monitoring feature so that parents can read their kids' text messages and see who their kids are communicating with. The new text message monitoring will be excessive for some parents, but the feature affords a high degree of visibility into their kids' lives. Lastly, the Qustodio app includes location tracking. Parents can see a log of their child's locations throughout the day and their child's current location. The app can also alert parents when a child arrives at or leaves a specific saved location.
child's online activity in real-time to see who they're talking to and what content they're accessing. Receive detailed reports via email and get alerts when limits are met or your child has a problem.
Pricing
Qustodio offers a free version, which covers a single device only and includes a limited set of features. Premium plans come in 3 tiers based on the number of devices to cover. Parents can select Qustodio Small for 5 devices ($54.95/year), Medium for 10 devices ($96.95/year), or Large for 15 devices for $137.95/year.
Customer Support
Customers can access email support or the self-help online help center. Phone support is available for the top-tier plans or for an additional $12.99 per year with the lowest tier Premium plan.
Pros And Cons
Pros
30-day money back guarantee

Free version (covers 1 device)

Works on Windows, Android, iOS, Mac, and Kindle
Cons
Limited customer support. Customers can access email support or the self-help online help center. Phone support is available only for the top-tier plans.

Highest tier plan only covers 15 devices